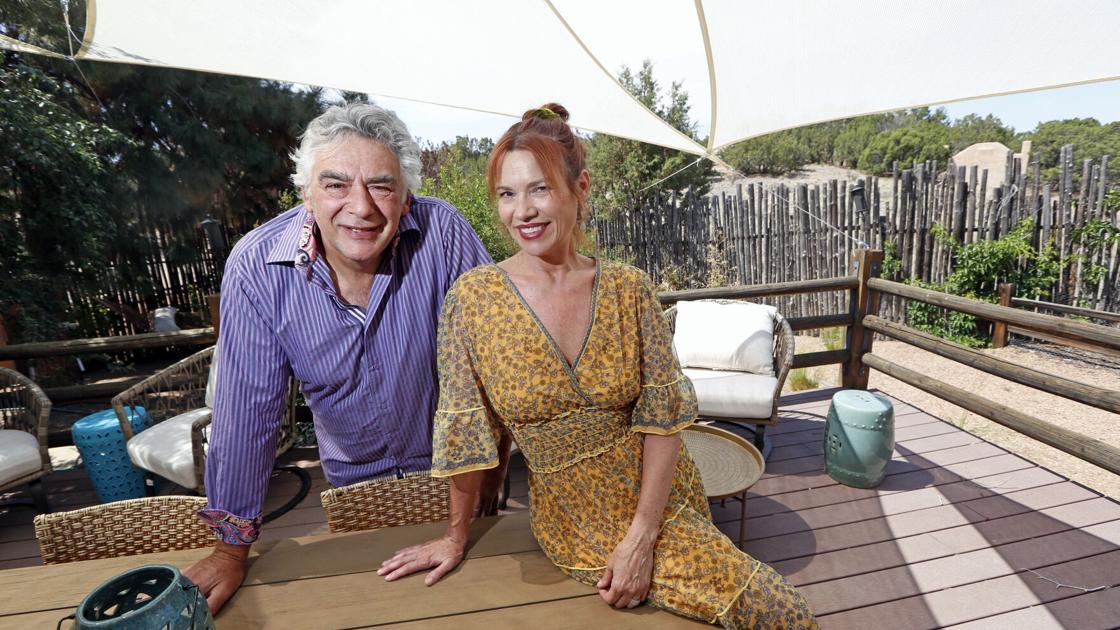 French restaurants are slim choices in Santa Fe, and French restaurants that serve dinner are even slimmer.
Alain Jorand and Suzanne Eichler, soon to be married, will become French in their own right with their Le Pommier, which will open in one form or another on Bastille Day, the big celebration in France on July 14.
They won't bolster French offerings in Santa Fe, but instead will open a bistro at La Tienda in the Eldorado shopping center, 7 Caliente Road. Le Pommier will be in the former La Plancha de Eldorado restaurant area.
"We want people to come here and feel like we're going to spend two hours in the French countryside," Eichler said. "This is not about turning things around. If you want to sit on the patio with your dog, then do so.
Jorand is originally from Reims in the province of Champagne north-east of Paris. He has owned French restaurants in Quebec; Florida; Buffalo, New York; and the non-French Flying Fish Café in Aspen, Colorado. He was briefly part of the Palace Restaurant ownership group in 2002, but has not owned a restaurant since then.
"Then he met me," Eichler said.
She already uses her name on Alain and Suzanne Jorand's business card even though the wedding does not take place until September 18.
"The menu will be in French with English underneath," Eichler said. "There will be frog legs and pâté. It's a very French menu. One of my favorites is the Ham butter – baguette with ham and butter.
There will also be steak fries, steak tartare and lamb stew with curry and apples (the Apple tree translates to apple tree). And the unexpected beef on weck, a nod to when Jorand lived in Buffalo.
Bouillabaisse and stew will make appearances on the menu.
One menu item specifically reads Chef Alain's Niçoise salad. He said so often that the Niçoise salad deviates from the traditional recipe. Traditional ingredients include tomatoes, hard-boiled eggs, olives and anchovies or tuna, seasoned with olive oil.
"If you go to Nice, that's what you're going to get," Jorand said of his eponymous Nicoise Salad.
Le Pommier will open for lunch first and add dinner about a month later, Jorand said.
Jorand worked for 14 years at Peter Dent's Adobo Catering before taking three years off and now returning to catering. He left France in 1976 and made his first stopover in Quebec, where he owned La Chaumière, north of Montreal.
He arrived in the United States in 1986, opening Restaurant St. Honoré, Brasserie St. Honoré and Café St. Honoré in Florida.
"I was going crazy," Jorand recalls. "My blood pressure went up.
He moved to Buffalo, opened the Enchanté restaurant and was introduced to the beef on weck sandwich which now challenges the very French flavor of the Le Pommier menu.
While in Aspen, he heard about the Palace Restaurant & Saloon for sale in Santa Fe. He and two associates bought it from Lino Pertusini, who had owned the palace for 20 years. Jorand moved away soon after but remained in Santa Fe.
Why choose Eldorado for a French restaurant?
"We took a house in Eldorado last year," Eichler said. "We already have a small community of friends here. We were looking to open a cafe for breakfast and lunch, and this one became available. It's a great place. We can't just make a little coffee.
Le Pommier will join La Tienda's already eclectic dining options, including Thai Bistro, Santa Fe Brewing Co., and Mami and Papi's food truck.
"It's a wonderful affirmation of the vitality of this community," La Tienda co-owner Destiny Allison said of the Apple Tree. "We offer a diverse range of foods designed to attract and titillate your taste buds. "
Married couple Kathleen King and Mark Hawrylak opened Eldorado Coffee Corral on April 1 at La Tienda. The organic, fair-trade coffees and teas come from the Agapao Coffee and Tea roaster in Santa Fe. It also serves donuts, breads and sweet empanadas from Whoo's Donuts. Bagels are shipped from New York.
El Sabor Gourmet Cheese, Sweets and Meats opened in April at La Tienda. Owner Ashley Scott offers around 20 varieties of cheeses from Spain, Denmark, Italy and beyond, as well as Humboldt Fog from California. The store offers seven imported meats, including mortadella, prosciutto, and Molinari salami, and Scott has 12 gluten-free desserts, including cheesecakes, layered cakes, and pecan pies.
"I'm a fifth generation Santa Fe," Scott said. "Basically I grew up in Eldorado and then moved to Colorado a bit and had a restaurant. I've always wanted a cheese factory. La Tienda fell on my knees.